Beauty from Japan. From our world to yours.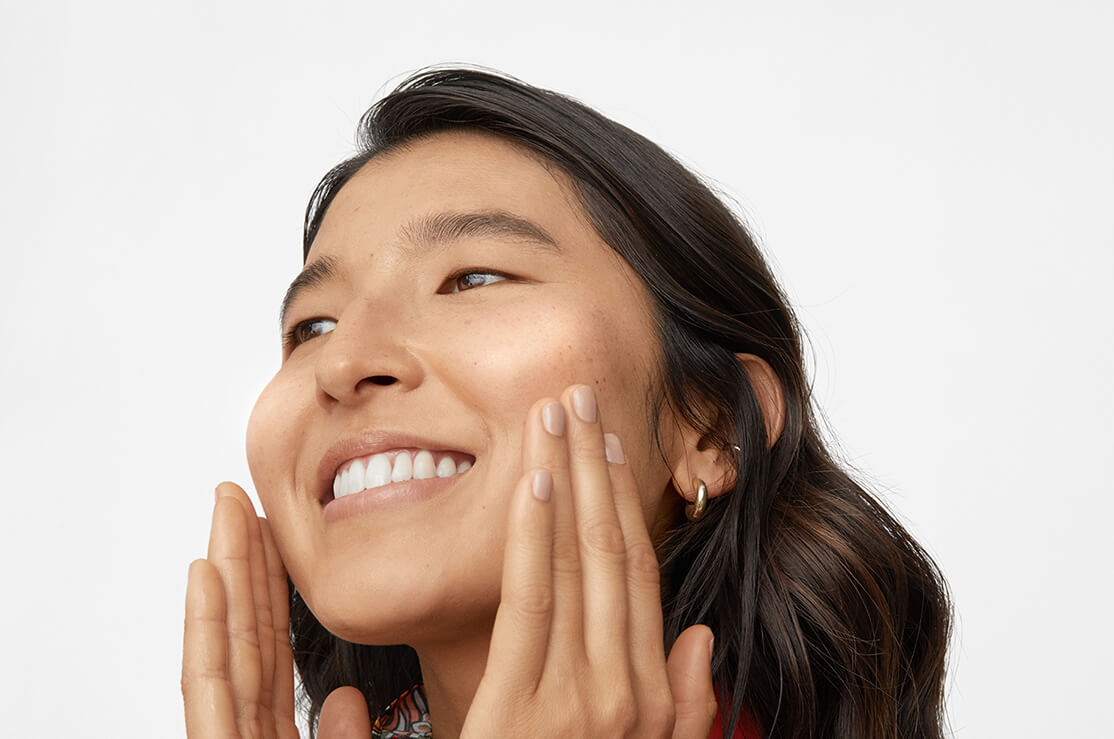 5 Steps To Healthy Looking Skin
Minimal time, maximum radiance
Story by Victoria Hall
There was a time in the not-too-distant past when anything from eight to 14 steps in a skincare regimen was the norm. More recently, there has been a shift away from the traditional Japanese skincare routines and a move towards more minimalist, time-effective regimens. What was once seen as a form of self-care has been stripped back and dubbed the 'skip-care' approach to skincare.

While our lack of time and willingness to spend more than 30 minutes slathering on various lotions and potions was definitely a major factor in the change, it was the rise of hard-working, potent formulas that provide multiple benefits and offer healthy, radiant results that was the real turning point. Keen to reclaim your spare time? Here's our guide to the ultimate five-step skin routine that will prepare and maintain your good skin condition from within.
STEP 01

Dissolve & Remove

After a long day, there are few things more satisfying than taking off your makeup. SHISEIDO's Instant Eye and Lip Makeup Remover makes this task effortless thanks to the dual-phase formula, which dissolves even the toughest of waterproof eye makeup in record time. All you have to do is give the bottle a shake, saturate a cotton pad and sweep it across your skin, closed lips and eyes.
STEP 02

Cleanse & Purify

Cleansing is a fundamental pillar to any good skincare routine as it helps remove various impurities that have built up on your skin throughout the day. With rice germ oil to dissolve impurities and hamamelis extract to gently buff away dry skin, three pumps of SHISEIDO Complete Cleansing Microfoam massaged in and then rinsed off will leave your skin feeling clean and fresh.
Softener is an
underappreciated
step of a
classic
Japanese
skincare
routine;
its role is to help
rebalance, hydrate
and
refresh your
skin.
STEP 03

Calm & Prep

Softener is an underappreciated step of a classic Japanese skincare routine; its role is to help rebalance, hydrate and refresh your skin. Packed full of mineral-rich Kirishima mineral spring water, the SHISEIDO Revitalizing Treatment Softener helps to improve dry, lackluster skin. Add three pumps to a cotton pad and apply to skin in upwards circular movements, with the pad resting on your middle finger and stretched between your index and ring fingers for the optimum pressure.
STEP 04

Hydrate & Protect

Multitasking formulas are key to this pared back approach to skincare, and the SHISEIDO ULTIMUNE Power Infusing Concentrate is the perfect example of a product that can do so much in just two pumps. ImuGenerationRED Technology™ generates this continuous inner defense boost into every part of the skin, renewing beauty with every heartbeat.
STEP 05

BRIGHTEN & REFRESH EYES

Last but by no means least is your eye care. One pump of the potent SHISEIDO ULTIMUNE Power Infusing Eye Concentrate gently patted onto the area, using your eye socket and brow bone as a guide, will help rehydrate, reduce the appearance of puffiness and brighten dark circles, thanks to the antioxidant-rich reishi mushrooms.