Image
Zoom
Vital-Perfection
Sculpting Lift Cream
Revitalized, luminized skin. For uncompromised beauty. Vital-Perfection brings you a

...
breakthrough in skincare technology, combining the natural powers of botanical roots, leaves and flowers with Shiseido's advanced skin science. As this potent fusion of elements works, your ideal skin is revealed―full, vibrant and resilient, with an even, youthfully bright tone. Beyond anti-aging. Beyond whitening. When aging signs such as wrinkles, loss of resilience, dark spots and dullness appear at the same time, they accentuate each other, causing a less youthful look overall. Vital-Perfection focuses on the common root cause of these age-related concerns and discoloration problems―aged proteins. The results are unprecedented. Shiseido VP8: fusing the natural powers of botanicals with state-of-the-art science. VP8 is a revolutionary ingredient complex that blends vital plant extracts with the effective whitening ingredient 4MSK. Its multifaceted approach* suppresses the degeneration of aged proteins, reducing their ability to damage skin, and restoring the skin's vitality. VP8 makes Vital-Perfection an all-encompassing solution for signs of aging such as wrinkles, loss of resilience, dark spots and dull, yellow tone. Skin becomes youthfully bright and resilient, and glows with vitality. With new confidence in your skin, your beauty becomes more perfect than you ever thought possible. Calm your mind, and deepen your skin's beauty. Bringing pleasure to the senses can enhance your youthful look. Comforting textures and a gentle, relaxing fragrance based on the elegant floral scents of lily, rose and jasmine combine in Vital-Perfection for an overall beautifying effect. For best results, regular use of the full Vital-Perfection skincare regimen is recommended.
More
Details
/vital-perfection-sculpting-lift-cream-1011149620.html
Make Your Skincare regimen
More Powerful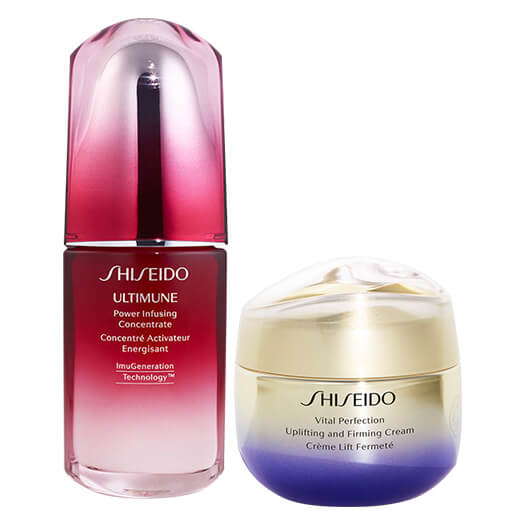 SHISEIDO's Approach To Skin
DEFEND & REGENERATE
The secret to beauty. Found within the skin's own natural defensive and regenerative powers for leading to " HEALTHY VIBRANT SKIN ".
Clarity, Hydration, and Firmness are the key elements of a HEALTHY VIBRANT SKIN.